Paddleboarding, Kayaking & Surfing Waterfront Launch Site Locations in Palm Beach County
Please note: We do not offer walk-up services. All activities are by appointment only. You can make a reservation request by clicking HERE
For Rentals, we offer Delivery ($25 fee) or Self-Pickup (free). Read about the difference and options here… OR
For Private Watersports services, Delivery (and retrieval) is complimentary!
Palm Beach County Waterfront Launch Sites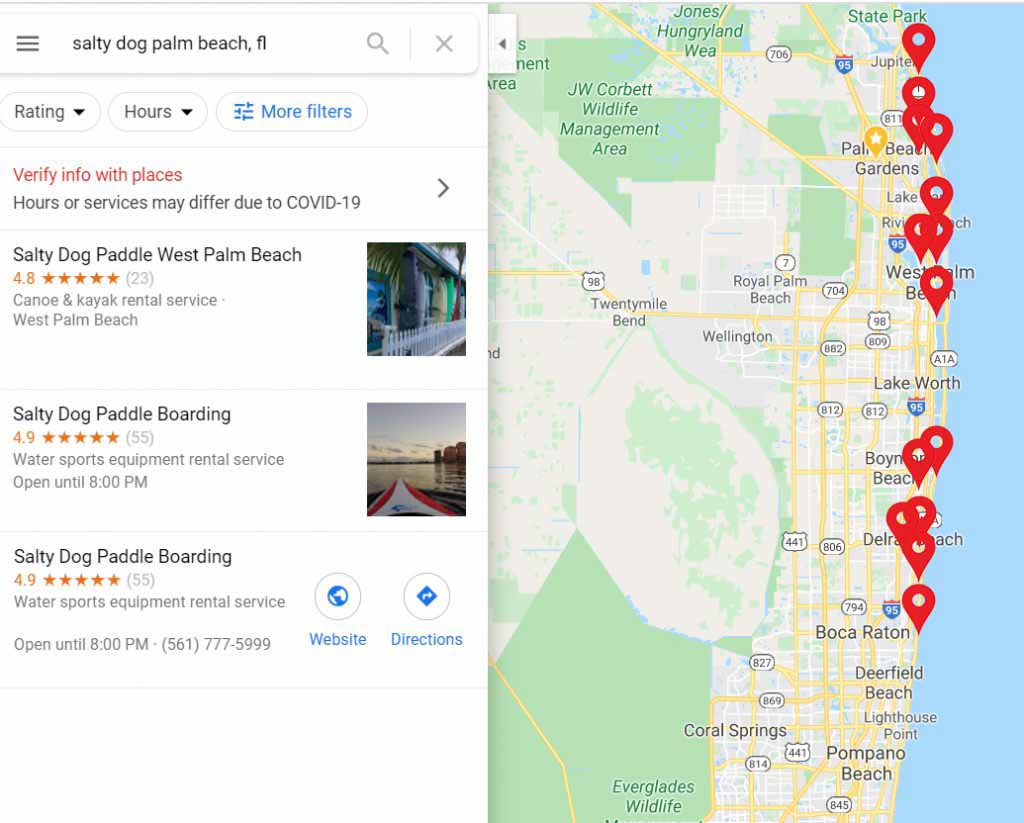 Option 1→ Self-Pickup Waterfront Launch Sites
(This means you get the equipment and put it in the water yourself – we may or may not be available to assist you. Gratuity goes a long way.) See the requirements if you are transporting rental equipment! Read more…
Jupiter Lighthouse Inlet – Jupiter, FL (North County Pick-up)
Capone Island – Boca Raton, FL (South County Pick-up)
Option 2→ Delivery Waterfront Launch Sites
(This means we will transport the equipment to and from and will assist you with putting it in the water and helping you back out.) Read more…
Dogs are always FREE to join
Bringing a pup? Bring your pup for a private stand-up paddleboarding (SUP) lesson in the nicest waters of Palm Beach County. Our instructors are all certified and we have special dog-friendly boards and life jackets in all sizes for your four-legged friends. There is no charge to bring along a four-legged friend!
Below are our featured waterfront launch sites for stand-up paddleboarding (SUP), kayaking and surfing in Palm Beach County in South Florida. These are simply recommended locations we have permits for or you can name your own spot!
ALL proceeds benefit injured rescue dogs and marinelife!
Every Paddle Saves a Pup!
Photos and Details for Each Location
Click HERE to see photos and details for each location!
Salty Dog Paddle is headquartered in Palm Beach County, FL and since we are mobile-based we have several waterfront launch sites that aren't listed here. We only list our featured stand-up paddleboarding (SUP), kayak, and surfing waterfront launch sites in Palm Beach County on this page, but please feel free to contact us for other paddleboarding or kayaking locations elsewhere in South Florida.
What to Bring
Water for both You and your Dog!
Sunblock
Bathing suit
Towel
Sandals or Water Shoes
Waterfront Paddleboarding, Kayaking, and Surfing Launch Sites